TAPECO - TAPE - TAPE WITH PRINT - TAPE WITH LOGO - LABELS
TapeCo - Tape with print, warning foil and labels
We are specialized in supply of tape with print for business and online stores in Denmark and internationally.
We do our best to provide customer with a good quality service to our customer achieve the best result. We want to be know as a good and stable supplier. TapeCo is a part of W.I.T
There are several different types of tapes depending on what the desired tape is used for. We offer a large selection of tape. We also offer warning foil (barrier tape), label production and tape without print.
Tape with print is suitable as marketing and a cost-effective way to market yourself. Tape with print may further provide assurance that your package has not been opened before your customers receive them.
Tape with print do not make your package anonymous like many other shipments. You can print your web address, company logo, seal information (eg. Warning, etc).
Tape:
Acrylic
Low noise
Silent
PCV
Solvent
Hotmelt
etc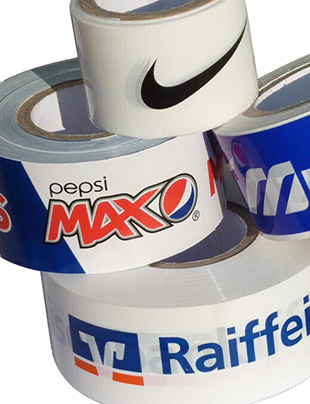 Popular tape sizes are:
19 mm tape
25 mm tape
38 mm tape
50 mm tape
75 mm tape

Minimum order is 36 rolls (50mm) for tape with logo / print.

Machine tape:
TapeCo also supply machine tape. A popular machine tape size is 48-50mm in roll of 990 meters.

Warning foils:
TapeCo can also supply warning foils with print size 75mm in rolls of 250 and 500 meters.

Packaging tape without print:
TapeCo also supply packaging tape without print in transparent and brown color in size 48-50mm x 66 meters.
PP Acrylic noisy
PP Acrylic silent
PP Hotmelt
We offer packaging tape without print in above types in quantities of minimum 1/2 pallets (1080 rolls of tape).
We do also offer tape without print of minimum 36 rolls for size 50mm x 66 meters silent tape.
Small quantities is often for small companies, online shops, stores etc. Contact us for a good price.
Labels - Labels with print:
We also offer quality labels with print with permanent glue. Labels can be used for marking products or packaging boxes. Labels can be a cheaper way of marking goods and boxes. Please feel free to contact us if you have request for labels.

If you have any questions or need a good offer, you are welcome to "contact us" or you can contact us at info@tapeco.dk.